I really have been doing the 29 Faces challenge and I"m really not that far behind...
Except when it comes to posting them :(
Seem to have run in to some type of mental block with posting on any of my 3 Blogs...
So unlike me to not have a thing to say.
So here are the faces I have done so far .....
Pencil sketches of a really cool statue I picked up at a resale store...
Mixed media painting on a laminate sample..
Another pencil sketch which will probably be painted later on..
...one more laminate sample mixed media...
...pencil sketch of the statue....
....My most read book..."GONE WITH THE WIND" ... old and yellowed... the dog at the cover and first several pages...it's been dropped in the tub (guilty as charged here ) and I still can't make myself throw it away... so it's being used as background pages in mixed media ...
THE FIND!
The statue that will end up in the flowerbed around the fishpond...I do love yard art or art in the yard :0) Not to mention thrift store finds are a real HIGH!
Linking to...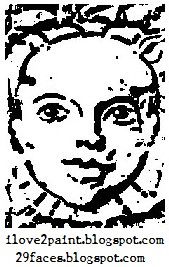 ....and ....
I think this brings me up to 10 Faces in Feb....see ya soon :0)