Summer of Color
This is the first time I have joined this challenge. I'm not sure I'll manage to keep up since I seem to have that problem this year. I will try and I will have fun :)
Using a limited color palette was more difficult than I thought it would be...after what's so hard about creating an image using only 2 main colors and one accent. WRONG! I found that I had to almost slap myself to keep from grabbing a different color for shading and whatever.
So here is my first simple entry ... using water soluble oil pastels on watercolor paper.
I just know you're surprised it's a flower :)
The Hub's calls these my "Hippy-Love & Peace" flowers.
Linking to ...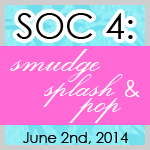 http://twinkletwinklelikeastar.blogspot.com/2014/06/the-summer-of-color-week-one.html