Days 13 - 15
Playing catch up here :0) hate it that my job gets in the way of my art :0(
Really meant to post this last night but Hubs stayed on the computer too long and I ran out of umph :0)
More pages in my journal done with watercolor background and Prisma colored pencils .
Looking at it today I just may go back and add some doodles to the background.
Linking to...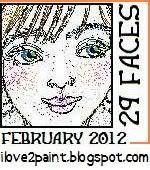 Don't know how these got all out of order again.....I fixed them 3 times already so I give up ....
I couldn't resist... I doodled the backgrounds...