It Sure has been harder to keep up this time around. I knew it would ...spring is always busy for me... at work and at home.
At least I'm caught up now....at least for today :0)
The first is a 6 x9 inch painting with acrylics on water color paper.
Day 9 is a 5 x 7 inch pencil drawing on water color paper.....once again I see the scanner screen needs cleaned again.
I think I could really get into doing pencils a lot ...I love the shading,,,if only i could do it so well with paints :0(
Linking up with ...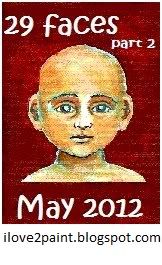 Go and check out all of the talented people at these sights :0)